Celesta Dalrymple - Piano
Celesta Dalrymple
is beginning her 30th year as a professional educator. She holds a Bachelor of Science degree from the
University of Central Oklahoma
where she majored in elementary education and minored in piano performance. She has been a public school vocal music director for grades K-12 in McLoud, Tecumseh, and Jones, Oklahoma. Currently she is teaching mathematics at Mustang North Middle School. Celesta continues to serve as an accompanist for school and community choirs and vocal and instrumental soloists. Her favorite accompanist activity is being a rehearsal accompanist for musical theatre productions. She began teaching private piano and home school theory classes ten years ago. Celesta enjoys her time spent teaching piano because she knows from personal experience that learning to play an instrument is a gift that will last a lifetime and it brings joy to share that gift with others.
Education: University of Central Oklahoma  majored in elementary education and minored in piano performance
Schedule a Lesson
Get to know our teachers
Angela Farris - Piano and Voice
Angela Farris
holds a Bachelor  of Science in Early Childhood Education from
Angelo State University
in Texas and a Masters of Music Education from
Southwestern Oklahoma University
in Weatherford, Oklahoma. She has played the piano for 35 years and has sung all her life.  She began teaching piano at the age of 16.
During Angela's undergraduate years she studied piano and voice at ASU.  She also accompanied choirs, vocalists, and instrumentalists. She sang in opera workshops and accompanied opera scenes.  Her first teaching position was teaching choir in Keller ISD in Texas.  During her graduate studies she studied voice privately with Dr. Robin Griffeath.  Angela also studied piano and harpsichord privately with the late Dr. Dennis Widen.  She was a vocal coach for Dr. Robin and Dr. Kristin Griffeath's vocal studios.
Angela has spent many years accompanying choirs, chamber ensembles, vocalists, and instrumentalists.  She has played the piano, harpsichord, and organ for these performances. She has also served as rehearsal accompanist for major vocal works.  As well as accompanying major ensembles, Angela has also sung in chamber ensembles, various choirs, and major work ensembles.
Since the age of 18,  Angela has been a professional church musician throughout Texas and Oklahoma. She has led children, youth, and adult choirs.  She has been an accompanist on both piano and organ. Angela was the director of music for seven years at a First Presbyterian Church in Elk City, OK.
Schedule a Lesson
Daniel Farris - Vocals
For twenty years,
Dr.
Daniel Farris
has worked professionally as a choral conductor, tenor soloist/chorister, adjudicator, and voice teacher. Raised in the strong choral tradition of west Texas music education, he completed a Bachelor of Music with all-level teacher certification at Angelo State University under the direction of Dr. Pamela Lee. After teaching with Jeff Rice at John Glenn Junior High School, the University of North Texas hired Daniel as a teaching fellow to teach men's chorus (1998-2001) and aural skills (2001-2003) concurrently while completing his DMA study in conducting. In this capacity, he worked with Dr. Jerry McCoy, Dr. Gene Cho, Professor Henry Gibbons, and other marvelous educators and professionals in the conducting, theory, and opera divisions. After teaching at Arlington High School with Ms. Dinah Menger (2004-2006), Daniel finished his doctoral coursework at UNT and received the position at Southwestern as choral conductor and teacher of the choral music education sequence. He holds a Doctor of Musical Arts degree in conducting with related fields of music theory and musicology.
Daniel is an associate professor of music and is in his tenth year as vocal area coordinator at Southwestern Oklahoma State University. He works in conjunction with Dr. Kristin Griffeath, Dr. Robin Griffeath, and the other music faculty to teach opera workshop, applied voice, and the choral music education sequence to performance, education, music business, and music therapy majors. He also teaches the Southwestern summer choral camp for OMEA/OCDA preparation and other workshops during the academic year that work to further enrich and improve the audition skills needed for Oklahoma students' successful placement in the state-level honor choirs. Daniel is a fervent advocate in the consistent use of solmization, voice building, and ensemble coaching in every rehearsal to better reinforce fundamentals of vocal music pedagogy and other core music principles found throughout a rounded music education. Read more about Dr. Daniel Farris
Chris Wilson - Guitar - Bass Guitar - Mandolin - Ukulele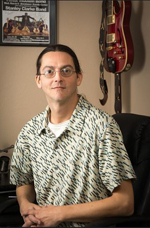 Chris Wilson
has been teaching over 12 years, 10 of them at Maughan Studios. Chris is very versatile, being able to teach guitar, bass guitar, ukulele and mandolin. Playing in many bands over the years ranging from country, blues, rock and metal, Chris has years of experience to share in his lessons.
Google Reviews from some of Chris' Students



Schedule a Lesson
Jeff Kirbas - Guitar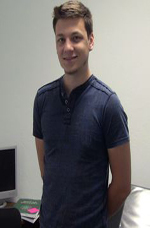 Jeff Kirbas is a guitar instructor and performing musician in the Oklahoma City area. He has over a year of teaching experience and has performed with multiple ensembles in a wide range of musical genres. Jeff recently graduated from Elmhurst College with a Bachelor of Music Business degree. He has studied music fundamentals, theory, improvisation, history, production and business.
Thumbtack Review from one of Jeff's Students

Schedule a Lesson
Lauren Caraway - Voice
Lauren Nichols Caraway
grew up in Chandler, Oklahoma and has been on stage since her first lead role in Annie at the age of 8. Growing up with the love of theatre, Lauren attended University of Central Oklahoma for two years studying Musical Theatre. Later attended Southern Nazarene University graduating with a Bachelor of Science in organizational leadership.  Lauren has performed all around the state with bands including Kalamity Jane and the Lauren Nichols Band. Lauren has debuted at many venues around Oklahoma including Remington Casino, Riverwind Casino, The Rodeo Opry, Stoney LaRue's Music Hall, The National Cowboy & Western Heritage Museum, Whiskey Chicks, Legend's (Nashville) and many others including her largest crowd, the Chesapeake Area performing the National Anthem for the Oklahoma City Thunder. Classically trained for over 10 years, Lauren, has experience in many genres of music including, contemporary, country, Opera, and Musical Theatre.
Schedule a Lesson